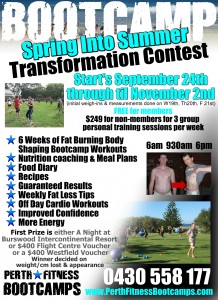 'Spring Into Summer' with our Bootcamp 6 week Transformation Competition!
If you're ready to commit to 6 weeks of hard training and a potential serious nutrition overhaul then now is the time.
It's $249 for 6 weeks of workouts and coaching from some of the best trainers around.
Please check with Trav to ensure you have a place in one of the groups as we do have limited numbers.
There's 3 locations & 3 different times:
Scarborough Mornings 1 @ 6am M/W/F @ Scarborough Scout Hall
Scarborough Mornings 2 @ 6am Tu/Th/F @ Scarborough Scout Hall
Scarborough Mid-Mornings @ 930am M/W/F @ Scarborough Scout Hall
Woodlands Evenings @ 6pm M/W/Th @ Woodlands Primary School
Mt Lawley Mornings @ 6am M/W/F @ Mt Lawley Primary School
Once we have confirmation of payment, you have secured your spot and we can send you through the nutrition information and anything else you may need. It also stops us having to mess around with paperwork at Bootcamp when we should be focusing on training.
Initial weigh ins and measurements will take place on the 19th, 20th or 21st at Bootcamp and you're welcome to join in on that session as well.
Just follow click on the 'Buy Now' button below to send you to the PAYPAL payment page. You'll notice that the merchant is Fit Faster Performance which is still us. Thanks and best of luck!
Spring Into Summer 6 Week Transformation Competition $249