It's that time of year again where we celebrate how amazing our mums are. They do so much for us and ask for so little back.
So this year why don't you…
Send Your Mum To BOOTCAMP This Mothers Day!
If you need a gift for your mother and she is impossible to buy for, why don't you give her a one month membership to Perth's premier personal training and nutrition program!
Or if you know a mum who needs some personal time maybe you should buy her one too.
Let mum enjoy some time just for her, for only $29!!!
Our mums fitness group has been running a few years now and there's already plenty of mums who come along. The mums fitness group in Scarborough is the 930 group that runs on mondays, wednesdays and fridays, although everyone is welcome.
But we have 3 locations (Scarborough, Woodlands & Mt Lawley) and 3 different time slots (6am, 930am & 6pm), so we can surely find something to suit her.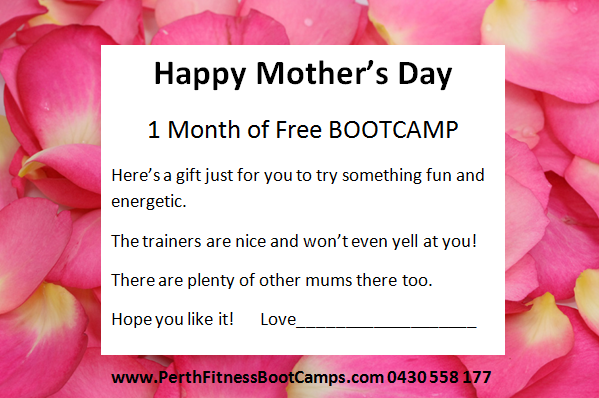 We will tailor the workout to suit her fitness level and age is no excuse. We have ladies coming along who are well into their 50's and loving it!
To buy one, just deposit $29 into the bank account below and let me know you've bought one via email or text message.
Perth Fitness Bootcamps National Australia Bank.
BSB 086270. Account # 15 989 0711.
You can print off the voucher below (click view image, then print) or if you want a printed voucher I'll mail it out to you or your mum direct (as long as we have sufficient time).
This is strictly for people who haven't been to one of our Bootcamps before.
Mothers Day is coming up fast on Sunday the 13th of May so you have no time to waste!
If you have any more questions check the website at www.perthfitnessbootcamps.com, text or call me on 0430 558 177 or email me at travis@perthfitnessbootcamps.com.
Your mothers fitness is important and once she starts she'll have so much more energy and we'll make sure she leaves with a smile on her face!