The most frustrating thing this morning when looking for something to eat, was which healthy meal I was going to eat first.
You see, in my fridge I had already stored a lamb curry, had half a roast chicken, had a single piece of steak defrosted, a couple of hamburgers defrosted, and some peri-peri chicken I wanted to grill. I had too much healthy meat to eat I didn't know where to start!
Contrast this with a situation we have all been in where we have nothing to eat…except cookies or chocolate or whatever is easiest.
The people who are most successful at changing their body composition are highly skilled at planning and

preparing what they are going to eat.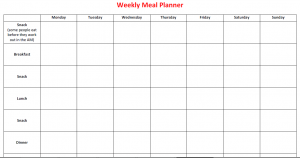 They know in advance what they will eat at what time and on what day so they don't have to think about it.
If you are as busy as I am you will understand why this is so important.
How to plan your meals.
Step 1.
In 2 columns, write a list of your favourite meals. In one column list the healthy meals and the other column list the not-so-healthy meals or restaurant meals.
I find this pretty easy because it's how my mum did it when I was younger. She wasn't really interested in food, just interested in easy. She would have a list of dinners she thought were easy to cook and fairly healthy.
Then she would write up a planner of what we would be eating for dinner for 2-3 weeks and keep rotating through the same meals until we needed a change. So over the course of 2-3 weeks we would eat 14-21 different meals at night.
Step 2.
Add the meals to the Weekly Meal Planner (download it here) including the not-so-healthy meals or restaurant visits. Keep in mind the 90% rule or your cheat day. Stick this on your fridge!
Step 3.
Write a shopping list for the ingredients for your favourites that you will eat this week. Keep it somewhere safe so you can use the same list again if needed.

Step 4.
Go to the shops and buy everything that is on the list and don't deviate from what's on the list. It's too easy to change your mind when walking past other delicacies, so just add those meals to your favourite meals list and add them in next week.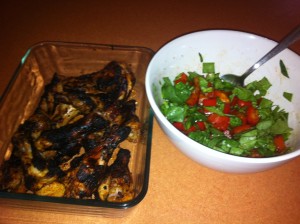 Step 5.
Cook those meals in advance or on the night you have planned to. Make sure you have easy recipes that don't take long to prepare. Otherwise you just won't cook em.
Step 6.
Repeat for the next week with the same list or a new and improved one. Experiment with simple dishes like stir fry's, curries, stews and soups.
You could cook on the BBQ for ease of cleaning and cooking. Just keep using the same process over and over and eating healthy on a consistent basis will become much easier.
Remember that you can and will eat the same things twice or more over the course of the week, and it's much easier that way.
You may eat the same breakfast most days.
You may have the same few lunches over the course of a week.
You can have leftovers for lunch or dinner if you plan to cook enough in advance.
What if you don't have time to plan it all out and prepare meals in advance?
Just order it online from somewhere that makes it all for you. Light n Easy does it all for you and delivers it to your door and you can even choose what you want to eat!
There are a bunch of companies that provide this service and they will only get more popular as we get busier.
'If You Fail To Plan, You Plan To Fail.'