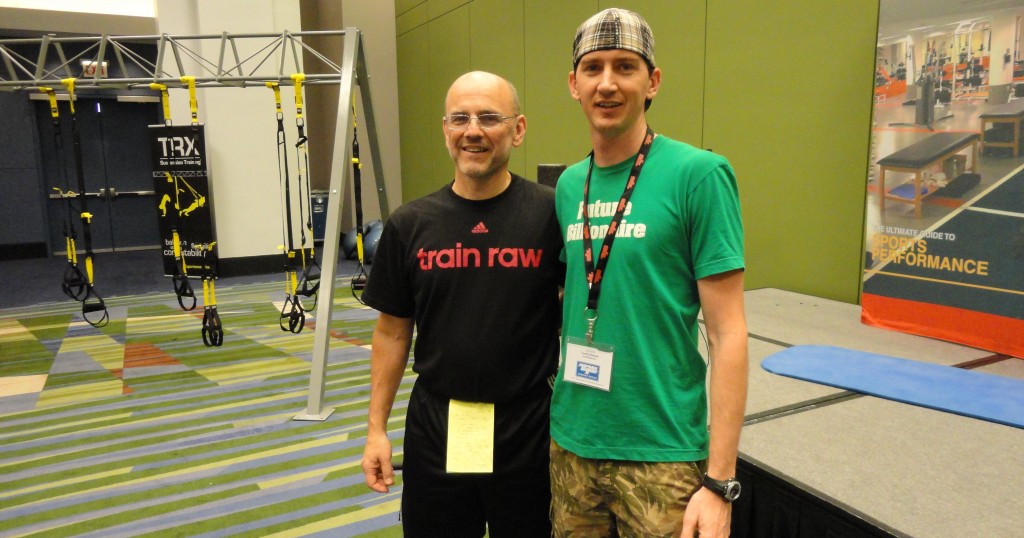 Being a trainer for the last 9 years, my working life revolves around food and exercise. No matter where I go people will end up asking me about one or both of these topics and I usually have an answer for them. This may have something to do with the fact I live and breathe it, play numerous sports and travel overseas to keep up with the latest trends.
But sometimes I don't want to think about food or exercise, especially on my own time. This may seem ridiculous but when it's work its fine. When it's my time, it 's sometimes just too hard.
I arrange my food and exercise so I don't have to think about it. I just do it.
My exercise is planned out for me by other trainers. I use a follow along Yoga DVD, I use a written program for Qi Gong, and my rehab exercises come from a variety of trainers both here and overseas.
As for my food, it's a little more complex again and takes a lot of planning. I am following a strict diet to help recover from Chronic Fatigue and my experience has proven that it works.
But sticking with any diet is time consuming and quite difficult, especially over the long term.
I've been on this one for around a year. I must admit my compliance has waned at times, but that is normal, especially while you are busy or sick.
However, a year into the diet and I have found some simple ways to get the good food I need without taking up too much time cooking or preparing food or thinking about it. That's what I'm gonna share with you today as it will help you get more organized and stop obsessing about food.
Trav's Cheat Sheet
Knowing what foods I can eat and can't eat – my food list is on the fridge. You are unlikely to have a food list to show what you can and can't eat. If it doesn't apply to you ignore it.
Planning out my weekly menu – my menu is also on the fridge. My diet requires me to eat meat for 3 meals a day so I have the meat listed on the menu with good variety throughout the week.
Putting meat into individual/dual serve Zip Lock bags. Once I know what I'm gonna eat and have it in the freezer, I just pull out what I need the night before, defrost it in the fridge and its ready to go by the next day. Otherwise I was going to the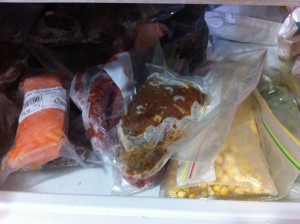 shops most days and it was wasting so much time.
Using frozen veggies. I have a few different sorts so I can mix them up through the week including corn, green beans, peas and mixed vegetables. I'll sometimes get cauliflower in there too. If I buy fresh stuff it often goes bad.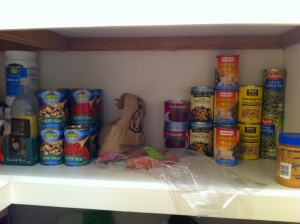 Using canned veggies. This is a new one for me but it's been going great. I can't believe I haven't been doing this for years as I always have vegetables in a can as backup in case I run out of fresh or frozen stuff, and it adds variety!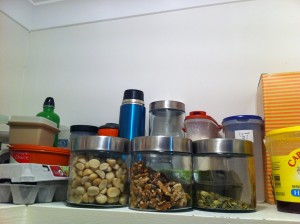 Using storage containers – Tupperware, glass containers, etc. I have clear containers for nuts, a fruit bowl on the benchtop, and a few for storing leftovers. But it also shows me how much of everything I have so I know if I'm gonna run out.
Cooking with a sandwich press or George Foreman Grill. This is the best invention ever! After making toasted sandwiches for months I decided to see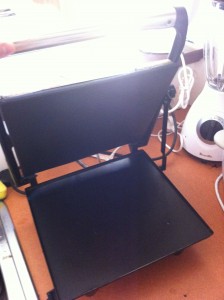 what else I could cook in it. Turns out you can cook pretty much anything on there. My list includes kangaroo, steak, fish, chicken breasts, legs, wings, etc, bacon and eggs (takes no time at all), sweet potato, vegetables if I'm really feeling slack. It really does it all!
It cooks both sides at the same time so it decreases cooking time. It has a non-stick surface which makes it easy to clean. The fat drains away. It doesn't get too hot so you can walk away from your food without worrying about it burning, but is still hot enough to cook foods through in a short time. It is magic. If you don't have one, get one.
Cooking with a BBQ. This is another of my lazy mans cooking tips. You can pretty much cook anything on the BBQ so it's good to have one handy. I grill chicken on low heat, and use the hot plate all the time in summer.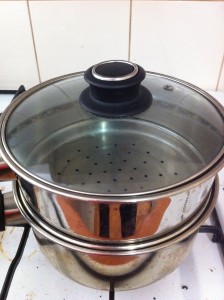 Steaming vegetables. I had never steamed anything until late last year when one of my clients told me how much better the food tasted. So I went and bought a steamer and have been steaming ever since. Just throw a little water in the bottom, and throw everything else up top. And it only takes 5 or so minutes (I start with boiling water), just don't overcook the veggies otherwise they don't taste as nice. So once they are cooked, take them out of the steamer immediately and serve them up.
Making throw together dishes. Curries, stews, stir fry's and any dish where everything can be cooked together will make your life easier. Just brown the meat, and then add vegetables and/or sauce and it's done. I've just started making curry with coconut milk, but tomato based sauces are good too, as are herbs and spices.
The less junk food you have in the house, the more likely you will be to keep eating healthy.
The more good stuff you have in the house ready to go, the easier the easier it will be to keep eating the good stuff.
The less thinking you have to do regarding food, the more time you will have for the fun things in life, or exercise if you never have time.