Online Personal Training & Nutrition Coaching
Holistic Health Coaching
For those people who struggle with their health & fitness and don't know who to turn to or what to do next, this is for you.
I base my coaching on my past experience overcoming Chronic Fatigue and have invested tens of thousands of dollars learning from some of the best coaches and numerous books and programs as well as trial and error.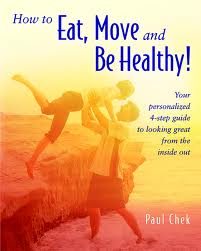 My specialty is focusing on getting the digestive system healthy as I believe it is responsible for much of what happens in our body, especially our immunity.
Fungus and parasites can get out of control and make you crave foods you know aren't good for you and often you will feel powerless against them.
The system I use will help to identify what is going on and allow us to create a custom program to rebuild your health through new, supportive habits and you will get well.
If your health needs an overhaul and you're interested in working with me, fill in the form below to discuss. There is hope!
Please bear in mind that this form of coaching requires a 6 month commitment and will not suit everybody. After an initial consultation, I must agree to take you on as a client and you must be completely committed to the process.
In the meantime, if you don't have Paul Chek's amazing book 'Eat, Move & Be Healthy', order it now and it will help open your eyes to gaining real health.