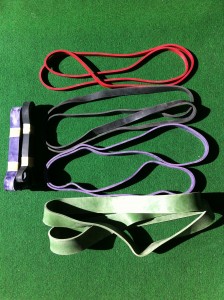 Bands
These are the ones I use at my Bootcamps and have served me well. They are 41″ round and vary in thickness depending on your strength or ability level. We predominantly use the super mini, mini and small Bands.
For most Women you are probably best suited to super mini if you are not very strong and mini if you are reasonably strong.
For most Men you can use a mini and small if you are stronger. We also have mediums available for those that want something very tough to use.
I actually recommend buying two different strength bands so you can switch between them. Contact me direct for payment and pickup/delivery.
Super Mini (red) -$20
Mini (black) -$25
Small (purple) – $30 (out of stock)
Medium (green) – $35
For the guys who train with me, I know the colours are different to what we have at the moment.
Yellow = Red       Orange = Black      Red = Purple
Foam Rollers


The foam rollers are 15cm x 45cm long. I have tried all sizes and find the 45cm ones best.
Price is $40 for the roller and DVD to show you exactly what to do, and you can pick one up from me at Bootcamp if arranged in advance.
Or it's $47.95 including postage and handling if you need it mailed through Just pay below and follow the shipping instructions.