What's up friends!
Hope you are going great and loving Summer on the first day of Autumn! I gotta get down the beach later for a swim or surf.
We're in week 3 of our 42 Day Challenge and you guys are going great.
Everyone I've spoken to has started making changes to their nutrition, exercise and how they link it together.
If Ingrid or I have spoken to you about bringing in a food diary and you have not yet, please do it! We want you guys to get the best results and good nutrition is a vital part.
If putting your food diary into the My Fitness Pal phone app, do that and share your diary settings with us.
The Labour Day public holiday is this Monday the 6th of March, so there will be no Bootcamp Monday.
If you are usually an evening person, why not join us Tuesday morning at 6am at Woodlands and see how that changes your day.
Bootcamp Pool Party
We want to take advantage of this amazing weather, so we are throwing a pool party at Ingrid's place on Saturday the 11th of March.
Festivities will kick off at 3pm and kids are welcome too. We'll have a BBQ too so BYO meat and drinks.
We'll discuss what time we want to BBQ and get back to you next week.
21 Day Detox
Every quarter when the seasons change we run the 21 Day Detox Challenge.
Doing this whole food detox gives you 3 weeks of resetting your nutrition habits by only eating real food, even cutting out some good foods which can react with people's stomachs.
There's always someone reporting on why a detox is a waste of time, but I wholeheartedly support them.
By cutting out junk foods, dairy and grains and eating only real foods, fresh fruit and veg, lean meats and good fats, you give the body a break.
With real foods it doesn't have to work so hard, so you end up with more energy.
The other side effect is fat loss, as eating real food can be more time consuming to devour and often isn't so calorie dense.
Why would you do it?
Fat loss is the biggest motivator.
But there are various health benefits that have been reported too, even people quitting coffee!
Maybe you don't want to quit coffee, but it's up to you.
We'll kick it off on Monday the 6th of March and as it's a detox, you do it at home, even on the public holiday.
Members get this for free.
Just let us know you wanna do it.
If you're part of the 42 Day Challenge, you too will get this for free.
If you want to participate and you're not training with us, you can join us for the 21 days for $99.
We'll even throw in 3 week's of Bootcamp 3 x a week to kick start that fat loss and coach you on nutrition throughout the challenge.
Just remember, there's no BC monday so you'd start training Tuesday or Wednesday.
If you are interested, let us know ASAP and we'll make the magic happen.
My Retirement
I'm retiring. For real.
Unfortunately not a rich billionaire, but I'll take what I got.
After 7 and a half years of Fit Faster Performance and 7 years of Chronic Fatigue, I've had enough.
I'm so burned out.
I need a break and I need a change. A big one.
Tomorrow I turn 37.
I'm single, I'm not entirely happy with life at the moment, and I need some adventure.
One of my biggest goals in life is to have a family, and I can't do that without a social life so I need to be healthy.
To be healthy, I need to rest, so rest I will.
My life has been pretty tough over the last few years especially, and I've tried to not talk about it too much as it's just depressing.
I've not had much of a social life for a few years now and it's the most frustrating part of the whole process.
I got worse after 2010 and spent all of 2015 & 2016 and the start of 2017 solely dedicated to restoring my health.
At the expense of this has been a thriving business and a social life.
I let the business slip for a bit as I didn't have the energy to keep pushing.
On

July 1

, Ingrid Kay will be
the new owner of Fit Faster Performance.
We've been discussing this changeover for the last year and a half, as we set up the next chapter in our respective lives.
Ingrid will be running Fit Faster Performance pretty much the same way.
I'm sure there will be some subtle changes over the course, and it will only serve you better.
What will I do?
Well I don't want to work, and I don't have to for a while.
I've got some savings and I'm happy to spend it.
My brain is burned out too, so I wanna let it unwind without doing too much.
Where will I be?
First, I'm planning a 6 month backpacking trip to South America in early July, starting in Buenos Aires, Argentina and working my way up to California.
Then I'll be flying to my friend's wedding in Toronto for New Year's Eve.
After that, I'm not sure.
I want to drive a van around the USA at some stage, but I'll need a visa to make that happen.
I want to drive around Europe as well, so that's another possibility.
Will I come back to Perth to settle down, again?
We'll see.
I will not be writing every week as I once was.
After 400+ articles, I've had enough of that for a while too.
Ingrid will carry the newsletter on.
I may email you guys from time to time.
I will be starting a podcast in the coming months to replace my writing, as I've always loved radio.
The opportunity to try a different medium sounds fun and the chance to interview some really cool people I admire is a big drawcard too!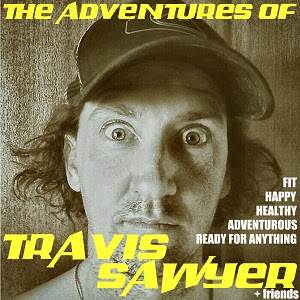 I will be running an online personal training and nutrition coaching business at some stage, but I don't know when I'm gonna fire that up either.
And there's still my book I wrote last year, to market and sell, so I have plenty to do when I'm ready to work.
If you want my help I'll always be available by email, and maybe by phone depending on where I am.
Where does that leave you?
Nothing much changes.
Everything will run as normal unless advised, and you'll have plenty of notice in that case.
As per usual, if you have any questions, come ask us.
So that's my big news.
It's pretty full on and scary, but it's a necessary change for all of us and I just want you guys to be looked after and I know Ingrid does a great job with you.
So This week I rest.
Tomorrow I celebrate and will email some birthday specials too.
And yes, I will inevitably do my birthday burpees, or at least some of them at Bootcamp next week with you all.
I know you love burpees and I don't want you to miss out.
I'll see you at training next week.
Have a great week and if you want a hand, ask!
Trav