I'd be lying if I said I didn't like dessert. But I don't love it so much to actually make something special too often. I dont have the time.
But if you wanna make it for me? … well thats a different story.
Desserts are good for us when on a diet because it allows us to enjoy our favourite foods. But you can still have too much, even if they are the healthier option.
Sometimes the better solution is to make less. My solution is to avoid making it altogether as I have no self control.
Before we get to the Guilt Free Desserts a word of warning.
THESE ARE TREATS AND NOT TO BE HAD EVERY DAY!
You don't need dessert.
Save a dessert for a treat meal and preferrably on a Bootcamp or hard training day.
OK and now for the good stuff. Here's a few recipes I've dug up that still fit to our food rules.
They're relatively high in protein and fat compared with carbohydrates. Some even have the nutritional information for you.
Bear in mind all recipes are open to interpretation and can be adjusted as needed so knock yourself out and enjoy…in moderation.
G

reek Yoghurt with Berries
Ingredients:
Low fat Greek yoghurt or low fat nutural yoghurt
Fresh or frozen berries
Mix them together in a small bowl or glass if you're prone to overeating. You can top with cinnamon or crushed almonds for variety.
High Protein Chocolate Mousse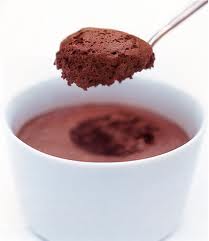 Ingredients:
2-3 scoops chocolate protein powder
1 ripe avocado, peeled and pitted
3 dates
½ cup carob or cocoa powder
2-4 tbsp maple syrup
1 tbsp coconut oil
Combine all ingredients in a food processor and blend until smooth. Let chill in fridge for 60 mins before serving.
Renegade Recipe Guide – www.JasonFerruggia.com
Banana Chocolate Ice Cream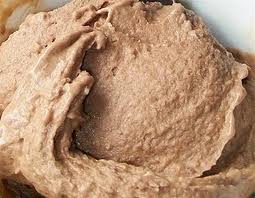 Ingredients:
1 ripe banana,
10 g raw cocoa powder,
1 ts cashew/peanut butter,
1-2 tbs coconut milk
a bit of salt.
Mash the bananas and mix everything together, put it in a plastic box in the freezer for 2 hours! Then enjoy your healthy ice-cream!
185 kcal, 5 g protein, 33 g carbs, 5 g fat
Inna Hopland
Single Serving Brownie

(grain/gluten/dairy/sugar-free) 
Ingredients:
2 egg whites
2 TBSP coconut flour OR 1 TBSP coconut flour plus 1/2 scoop protein powder
1 TBSP unsweetened cocoa powder
2 packets Stevia (more or less, it's up to you.)
1/4 cup pure pumpkin
1/2 teaspoon baking powder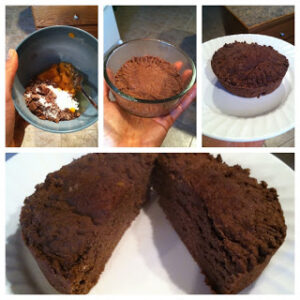 Mix everything into a bowl. Spray a little glass dish or bowl with non-stick cooking spray or grease it with coconut oil. I used a small round Pyrex dish. Put mixture in it and toss it into the microwave.
Nuke at 80% power for 2 – 4 minutes. Cooking time will vary depending on your microwave so keep an eye on it so you don't scorch the edges. The second the middle is not wet, it's done!
You could eat this plain, top it with coconut butter, nut butter, berries, Greek yogurt, etc. Go crazy.
The options with this little cake are endless. You could omit the cocoa and sub in cinnamon and nuts for more of a Cinnamon Roll style cake. You could add fruit if you want or if you're feeling crazy, peanut butter and chocolate chips. There are no rules – anything goes!
Substitutions: I haven't tried any of these but I am guessing** they would work.
Instead of coconut flour, maybe try almond flour.
Add 1/2 scoop protein powder and another egg white to beef up the protein content.
Instead of 2 egg whites, use 1 whole egg.
Instead of pumpkin, use berry flavored baby food, unsweetened applesauce, or smashed banana.
**If the aforementioned substitutions don't work, remember that those were guesses on my part. To ensure greatness I suggest you stick with the original recipe. 
Jen Comas Keck from her blog @ www.jencomaskeck.com
Chocolate Cheesecake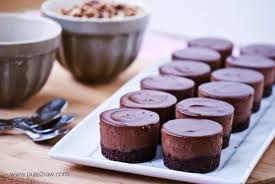 Ingredients:
250 g fat free cottage cheese
½ cup low fat chocolate milk
4 scoops chocolate protein powder
5 heaping tablespoons organic
peanut butter
Preheat oven to 350°F. In a blender, combine cottage cheese and low fat chocolate milk and blend until creamy and smooth. Remove from the blender and place into a mixing bowl. Next, add protein powder and mix thoroughly. Finally, add in the organic peanut butter, one scoop at a time, blending until smooth.
Pour the mixture into a small 4-inch ramekin. Fill a deep oven pan half-full with hot water and place the ramekin inside of the oven pan so that the water comes approximately half way up the outside of the ramekin. Place the oven pan containing the ramekin into the oven and bake for 40-60 minutes, until slightly firm to the touch.
When finished, pull from the oven and allow to cool for several hours. When cool to the touch, place in the fridge and cool over night. Serve cold or at room temperature. Makes 4 servings.
NUTRITION INFORMATION (per serving)
Calories 337 kcal
Protein 41 g
Carbohydrate 14 g
Fat 13 g
Saturated 3.1 g
Monounsaturated 6.3 g
Polyunsaturated 3.5 g
Precision Nutrition's Gormet Nutrition Desserts www.PrecisionNutrition.com