I was out Sunday night somewhere in San Antonio Texas, enjoying the best takeaway food I've ever eaten. It was kinda like Nando's chicken but better. I was more than satisfied with my dinner.
So I caught the bus back towards home to transfer to another bus. I waited at the bus stop for 45 minutes and the bus never arrived.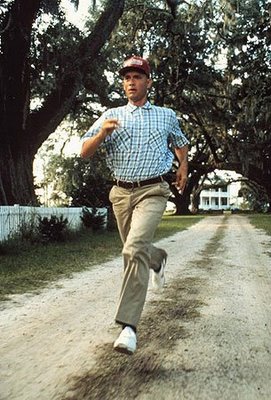 I failed to plan well enough in advance and got stuck at 11pm a fair distance from where I was staying with no bus or taxi nearby. So I ran.
I ran like Forrest Gump. I was unstoppable. Well I wish I was unstoppable, but I did alright considering I've not run in 2 and a half years. It was only about 3k and I was very impressed with myself.
My legs are still sore 4 days later.
Alas I send to you a big hello from Corpus Christi Texas! I'm all the way on the south coast of the USA right on the gulf of Mexico catching a few waves.
But I'm really here to catch up with a friend of mine who runs a gym down here. Adam Farrel runs Pinnacle Performance & Fitness training athletes and everyday folks looking to tone up.
Yesterday I spent the day in his gym looking whats happening and seeing if we can swap ideas to improve both of our businesses. I ended up with a migraine from thinking so much and needed a 4 hour nap and a big nights sleep to get over it!
The main thing we realize is that our training is solid. We are definitely giving you guys the best training you need to be reaching your goals, whether they be physique transformation or increased sports performance.
What we are really looking at is how we can motivate you better. We wanna know how we can deliver the information you need in the clearest way so you can get the most out of your training and nutrition.
So today I'm doing something different on the blog. I'm gonna interview Adam and see what he eats and what he suggests to his clients. Our views may be the same or they may be different but the end result should still be the same.
You can check it out here:
I'll be home in just over a week. In that time I'm gonna watch a ton of the Olympics. You should too. If you want motivation, these guys and girls are the best in the world at what they do and lead the way with what's possible when you combine good diet and training…ok and maybe freak genetics too.
But it's the hard work and determination that sets them apart from the rest of us mortals.
Have fun and I'll be seeing a lot of you soon. In the meantime if you want any help or need some advice just email me or contact me on facebook and we'll do what we can for you.
Trav