I know it's hard to get into a routine to regularly train. With a busy job, and stuff to do at home it's easy to get distracted and find something else to do.
But once you find your routine, it gets somewhat easier to fit training in. For me, I train on Tuesday, Thursday and Saturday and it's usually just before lunchtime as that's what best suits my schedule.
Then you go on holiday and your training is thrown out the window.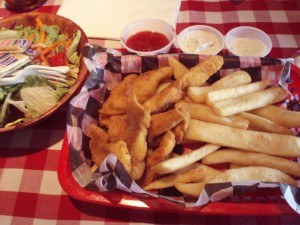 You no longer have a routine, nor do you want one.
Anything that resembles normal life is a party foul and thus left at home. But it shouldn't be.
You train way too hard to get fit and strong, so to just ignore it while you are on holiday is poor form. Not to mention it can be a major setback in regards to achieving goals, losing strength or fitness, and sticking to a diet.
I'm not going to go into diet while on holiday as it's just too much. Just do the best you can on holiday and live it up a little.
You CAN train while on holiday and you CAN get by with doing the MINIMUM amount to maintain your fitness and strength.
Notice that all I'm suggesting you aim for is to maintain where you are at before you leave. Not to increase it, just maintain it so when you come back you are fresh and ready to pick up where you left off.
I bring up maintenance training for good reason. Over the last year I've been unable to do much of a real training session. Instead I have been focused on doing the minimum amount on a consistent basis. And I can do this without any bad side effects to my health or feeling wiped out. But that's not my point.
By doing the minimum amount, which has mostly involved one set of pushups and one set of inverted rows on the TRX, I've not maintainted my strength but increased it…substantially.
This result blows me away and has myself and some other fitness professionals baffled. But I guess it's the consistent effort repeated over time with a slow and gradual increase in load that has helped me get stronger despite doing very little.
If I did nothing, I would be way back where I started, which was struggling to do a proper pushup, but instead I now do my one set of pushups with my feet on a bench, a 5 kilo weight plate on my back and my hands holding onto Olympic rings hanging 6 inches from the floor.
So will I be doing training while on my holiday? ABSOLUTELY!
I'm aiming for maintenance but actually think I'll get a little stronger again.
So here's what I'm going to do and what I think you should do.
As a bare minimum you can do some bodyweight training. I know a ton of bodyweight exercises to choose from and will definitely find the 5 minutes I need to fit them in.
If you can't motivate yourself to fit in some pushups, squats, lunges and burpees, then I have a Home Bootcamp Workouts program you can use. Just set a timer for 5, 10, 15 minutes or whatever you can spare and just roll through the exercises until your time is up. Then get on with your day.
I'd suggest doing your holiday workout first thing in the morning so it gets done and you don't have to think about it the rest of the day.
You could book a hotel with a gym and just wander down there for a set time whenever you have a chance. No equipment or setup time needed. Just turn up, do your thing and leave.
You could take a single band away with you. It takes up very little room and is deceptively tough to train with when used properly. I did a band workout a while back that smoked me on one set with the lightest band. The entire workout was 5 minutes. This it it below.
Another awesome tool for travel is the TRX. I love my TRX and am definitely taking it away with me.
It can be hung from a tree or beam on a roof, or better yet a door. Just fit the anchor and get to work. The TRX allows you to do much harder movements that just conventional bodyweight training and then packs away into a small bag to be thrown in with your luggage.
You can always throw on the running shoes for a few laps around the block or swim in the pool if that's an option, but I still suggest you do some strength exercises to maintain that.
By doing strength training with little rest you rev up your metabolism better than any run or swim, and you don't even have to leave you room.
I know you're thinking it easier for me because my holiday involves a fitness conference or two and multiple visits to my mates' gyms. But the reality is, I won't be at gyms all the time and more often than not I'll be there to observe, learn, meet the clients and talk business, rather than workout.
So I've given you some easy solutions.
Now here's my challenge to you.
I want you to commit to doing 5 minutes of strength based workouts with little or no rest between exercises for 3 days every week while you are on holidays. That's not much at all.
Will it stop you from putting on weight while you are away? Probably not, but that's more likely to do with eating out nonstop.
But it will keep your strength and a reasonable level of fitness so when you get back you're not just a sweaty mess on the floor.
And by committing to 5 minutes, you may get the motivation to up it a little more and do a full on workout where you feel you've really worked as hard as you normally would.