Millions of people around the world like to run as it costs nothing and you can do it anywhere. But there are still plenty of us who just dread the thought of running or are no good at it or just don't wanna try it.
I've already written a couple of articles in the How to Run Faster and Further series and wanted to add some more information to it.
If you missed them you can read them here:
www.travissawyer.com/2011/09/26/how-to-run-faster-and-further-part-1
www.travissawyer.com/2011/11/08/how-to-run-faster-and-further-part-2
But this time I thought the best way to do it was actually to show you what happens when you apply the information.
Today we have a guest post from of our Bootcampers who has made some big advances in her fitness and broken way out of her comfort zone to achieve a pretty impressive goal.
She wanted to run the Perth City to Surf.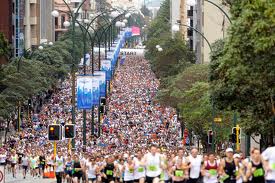 One of my jobs as a Personal Trainer is encouraging people to do new activities, so when she asked me to give her some training advice I started really simply and just got her going.
She never looked back.
Often the task of starting something new is quite overwhelming, but if you just do a little bit at a time, you'll find it easy to get better and enjoy it more and more.
So without rambling on any further, I'll pass it over to Tash…
When I first started running last year I had never run before and the thought of it made me cringe.
I used to look at people running down the beach and I used to feel sorry for them! hahaha!
When I started it was a struggle and the breathing, stitches and cardio fitness was tough but each day I had massive gains – I can't believe how quick my fitness changed in such a short amount of time. I reckon within about 4 weeks (training only sat morning to start with) I could run 5km's.
I would be purring like anything but it was achievable. Soon it even became comfortable – good god I became one of those people that I felt sorry for! hahaha!
My body fat was reducing and I could see noticeable differences in my tone.
I did not know running helped tone arms and other places… running actually became VERY rewarding!
Then I did the City to Surf 4km's like a breeze and I actually ran all the way back to the car (we had lost the car and I ended up running to find the car longer than the distance of the City to Surf event!) hahaha!
But I had loads of energy and the 4 km's was a breeze, given all the adrenaline of the event etc… I also ran it with 2 of my friends who have NEVER run before and they do not exercise in any form.
We were running/walking/ 5 km's to start with, then we could run the whole distance easy within 4 weeks!
Since then the training kind of dropped off as the people I did the running with didn't normally exercise and so on and so on…
I started the running again when the HBF Run for a Reason free training started.
You can check it out here: www.hbfrun.com.au/training/free-training-sessions
I didn't really measure my performance so I'll tell you my training schedule. I did notice massive gains in fitness as the program was quite intense!

Monday morning – Bootcamp
Monday afternoon – 1 hour of running training … things like distance training. ie running for 4 minutes followed by a minute of sprinting then 4 minutes normal pace etc then there was a bit of sprint training and strength so sprinting followed by 1 minute of pushups/squats/abs etc
Tuesday – Day off
Wednesday morning – Bootcamp
Wednesday afternoon – Running training – each day was mixed training catering for more distance or speed depending on what trainers gave us.
Thursday – day off
Friday morning – Bootcamp
Saturday morning – Running – this was same as other times ie mixed training. On Saturday's they had the time trials to see how you were progressing
There was a massive difference in fitness when I was doing run training and the gains happened VERY quickly!
When I first timed myself on a 2km time trial then continued rest of session I was nearly dead. I had to stop and thought was gonna be sick, but every session got a lot easier…well not really easier but I could exert myself further.
I did an advanced running class (now those guys are professional runners, I have not seen anything like it before) I struggled to keep up with the distance but sprints I was maybe 3rd in a group of about 15?
The classes were designed to get your time better rather than training to run the whole 14km's, so a lot of it was high energy short bursts.
If I could get through everything ie work, Bootcamp, running, uni and nothing have to be effected by any of it then I would definitely keep doing it, but something had to give unfortunately 🙁
I will most likely continue with Saturday mornings as there's the least interference with other stuff.
I would highly recommend running. I have seen most gains in myself when I have been running as well as doing Bootcamp, but it does also wear on your body.
Tash