Too tired to cook something good for dinner tonight? Tell me about it. Last night was one of those nights for me. After a 4 day migraine and nasty cold at the same time food was the last thing I wanted to think about.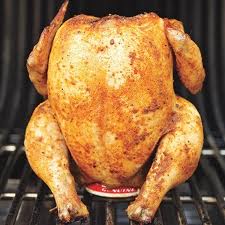 My solution?
I bought a whole hot BBQ chicken and ate a couple of the legs from that. I pulled a bag of chopped up capsicum from the fridge which I'd prepared earlier and ate that.
Then I peeled a few red potatoes, chopped them up small and boiled them before mashing them up with a bit of extra virgin olive oil with paprika and salt. I was satisfied and happy to get a healthy dinner.
Now I am only chasing food for one so it may be easier for me, but even my makeshift healthy meal could be made to suit a larger family…if you are prepared.
Stay Prepared For Busy Nights When You Are Exhausted By…
Having good ingredients on hand all the time.
Making sure you have a regular shopping list of the same foods you buy every week and keep them stocked up.
Keeping frozen and canned veg for nights when you're busy or the end of the week when you run out of fresh stuff.
Making sure you have plenty of herbs and spices to flavour your food.
Boring tasting food makes everyone miserable.
So here's some tasty meal ideas for Lunches and Dinners. Some may be better suited to work lunch, some weekends, some strictly dinner and some could well be eaten any time of the day.
Actually I tried finding some work lunch recipes and my brain hurt. You're better to take leftovers or buy something out if you have to and save preparing lunch for the weekend. It just takes too much time during the week.
Pea & Lamb Soup

Ingredients:
500g yellow or green split peas dehydrated
half a celery
3 carrots
1 whole garlic
500g diced lamb or you can use beef or even ham
bacon bones, enough to add flavour
1 brown onion
salt and pepper to taste
Soak the peas overnight or at least rinse them before you cook them. Throw them in a large soup pot with 2 litres of water and bring to the boil. Add ingredients as you cut them up; the order never really makes a difference.
Bring it back to the boil. Simmer for at least half an hour. I like to leave it longer so the peas disintegrate and all the vegetables become soft.  Add salt and pepper as needed.
When I'm not feeling well I'll make a batch, fridge leftovers, and eat this for all meals.
Wild Salmon Basil Burgers

Ingredients:
enough salmon to feed you / your family
¼ cup minced fresh basil
1 garlic clove minced
1 free range egg
1 teaspoon onion powder
whole iceberg lettuce
Set your grill to medium or you can use the oven.
Throw your salmon in a food processor with basil and garlic and blend until smooth. Put mixture in a bowl and mix with the egg and onion powder and shape into patties. Cook for 15 minutes turning once.
Wrap with lettuce leaves and any extra salad or condiments as needed. I reckon lemon juice would be amazing.
If you're sans food processor or time-poor, just grill the salmon with basil, onion powder and garlic on top and forget the egg. (from the Paleo Diet Cookbook – Loren Cordain)
Fajita Stir Fry

Ingredients:
enough diced beef to feed you / your family
4 tablespoons extra virgin olive oil
2 garlic cloves crushed
2 tablespoons freshly squeezed lime juice
1 teaspoon chilli powder
1 teaspoon ground cumin
1 small onion cut into small wedges
1 red and 1 yellow capsicum cut into strips or bite sized pieces
1 medium tomato diced
2 tbsp of dark rum (optional)
¼ cup chopped fresh cilantro
Mix 2 tbsp oil, garlic, lime juice, chilli powder and cumin, then pour it over the meat in a dish and marinate for a couple of hours in the fridge. Or if you want to eat this in 10 minutes, just throw it all in together and go to next step.
Heat the remaining 2 tbsp oil in a pan over medium flame then add the meat stirring occasionally until it's browned. Add the onion and capsicum and cook for another few minutes stirring occasionally.
Combine the tomato and rum in a small bowl and pour over the stir fry. Cook another minute then turn off the heat, sprinkle cilantro and serve it up. (from the Paleo Diet Cookbook – Loren Cordain)
Chicken Wing and Drumsticks

You can buy these everywhere, even pre marinated if you want. They're easy to cook on the bbq or grill in the oven if that's easier. Mt Barker Free Range makes a bunch of different flavours of marinated wings and drumsticks for about 8 bucks a kilo and unflavoured for about 4 bucks a kilo. So you can get plenty of meat for your dollar.
If going the unflavoured route, extra virgin olive oil and some Mexican spices are my choice. But experiment with flavours. Make some curry drumsticks with curry powder, turmeric and chilli or try lemon pepper sprinkle with fresh lemon squeezed over the top.
Then all you need is a salad or some steamed veg and you're set. But if you have the bbq on you may as well throw some chopped capsicum, onion, squash, zucchini strips and eggplant on there for something different.
Work Lunch Special
Leftovers.
Seriously this is as good as it gets when you're trying to eat healthy. Just make sure every time you or your partener cooks, you make enough for an extra 2-4 meals. Just double your ingredients and fridge or freeze your leftover portions and take them to work.
Buy a salad for lunch. But not just any salad. My friend Davis tells me of an amazing salad place called Salad King in the old Paragon Arcade in the city, a place where you can have lots of meat with your vegetables and don't just have to eat lettuce leaves. I like the sound of that.

Sumo Salad has been around for a while now too and make some tasty stuff that I'd be happy to eat at most meals.
A chicken salad at a restaurant will always work for a corporate lunch or dinner. Or even steak and salad minus the chips. Just ask them to leave the chips off the plate and replace them with a salad or steamed veggies or they'll end up in your belly.
If you can't find an exotic salad, you can always pick one up at Subway with whatever meat you like, just make sure to add avocado for some good fat and not too much dressing. And stay away from the cookies!
If I'm strapped for time and desperate for a healthy lunch, I'll buy a half or whole cooked chook from Coles or Woolworths and a pre-made salad or bag of spinach and eat that, just so I don't go and raid the nearest burger joint!
It's not fancy but it keeps me on track with my food. Otherwise its way too easy to blow the 90% rule just chasing lunch. I wanna save my cheat meals for the weekend.
Hope you try some of these dishes and they make your life easier, and please send through your own recipes if you have time. I know there are plenty out there and we all benefit from you sharing them.