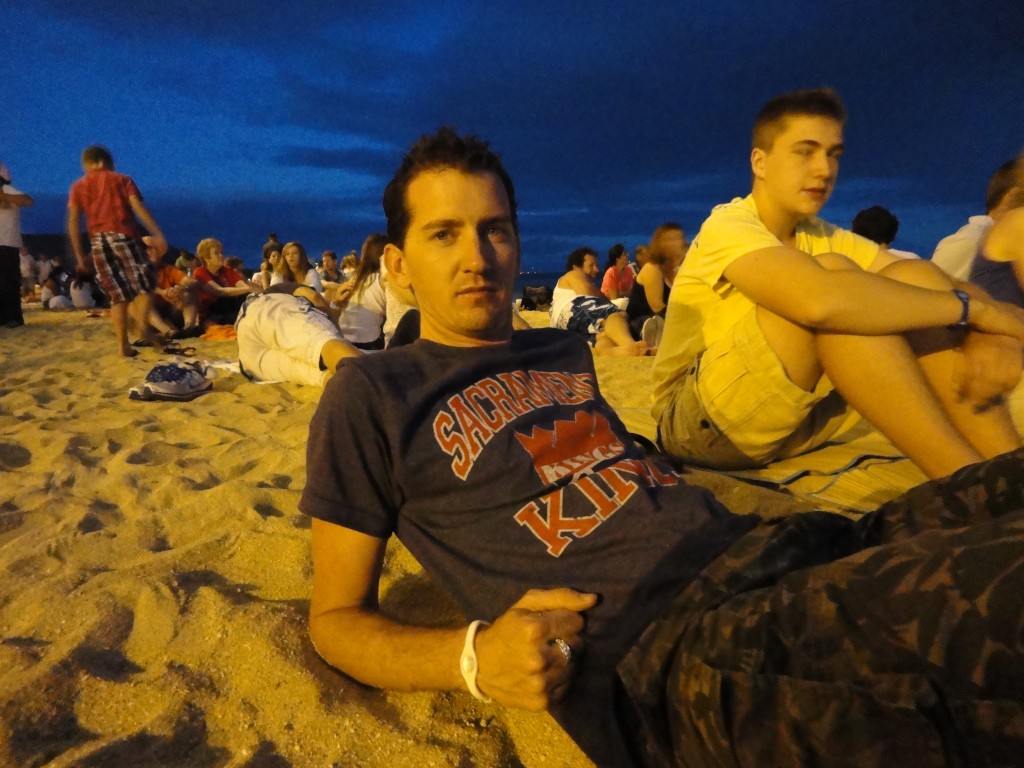 Aloha from beautiful Hawaii! It s been almost 3 weeks since I went away on holiday to the USA and I'm starting to feel good. I'm finally starting to unwind, but its taken 2 weeks in Hawaii to make it happen.
I even surfed for an hour and a half the other day and actually felt pretty good. A week ago I struggled big time with a thumping headache feeling while I was in the water. But 4 weeks in Hawaii should sort anyone out with stress relief so I'm happy I'm here.
I started my trip by being delayed 2 days in Perth, so I spent them sleeping and trying to make sure my flight left. Then I spent around 4 days in LA to get over jet lag and have a look around, but ended up sleeping poorly and having a migraine for 2days. It wasn't all bad as I had a good look around the city and spent most of my time chilling around Santa Monica.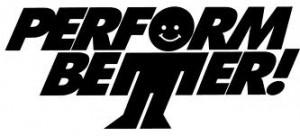 Then it was off to Chicago for the Perform Better Fitness Summit. It's the conference that brings in the top fitness professionals from throughout the country and the information is second to none.
I was in my element just soaking it all in, so much so that I barely slept the entire time I was in Chicago. I spent the majority of my time there listening to and participating in rehab/prehab lectures, as it's the most technical part of the fitness industry.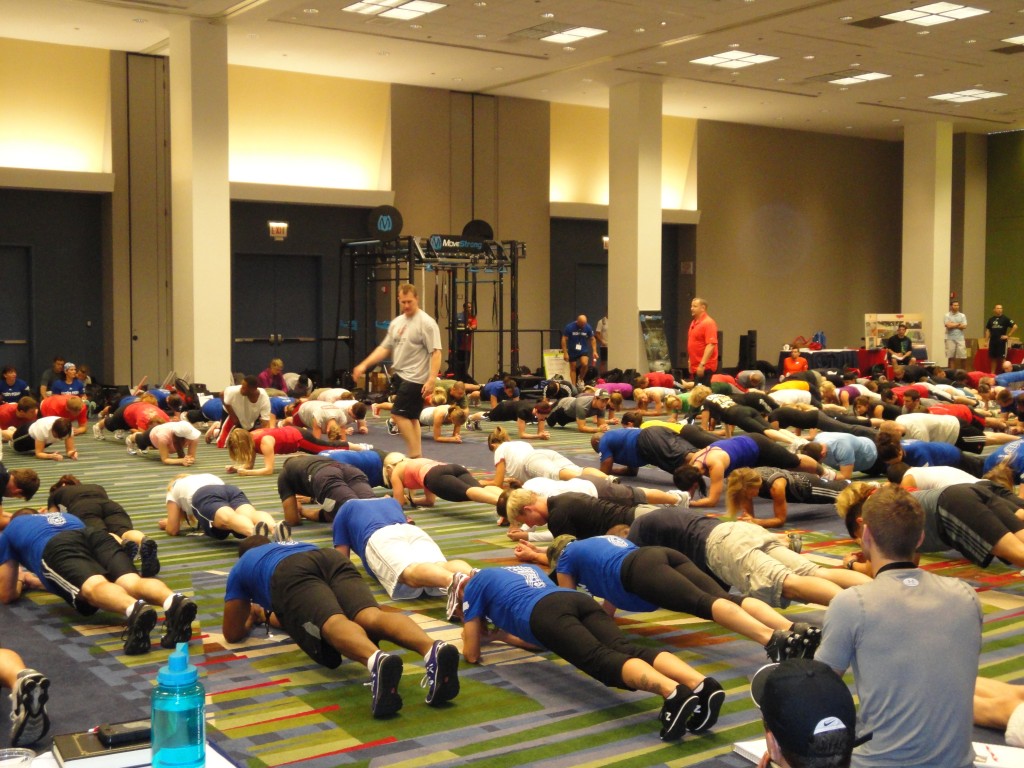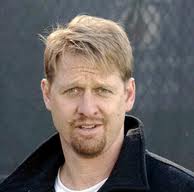 Gray Cook, inventor of the Functional Movement Screen is the guru most of the top guys are referring to when improving movement problems, tight muscles and imbalances. I spent a lot of time listening to Gray and his colleagues. The testing and rehab exercises they use focus on improving movements rather than just specific muscles.
I have most of the information back home but haven't been through it all as it's very in depth. Something else to look at when I get home.
At the social I introduced myself to one of the lecturers. His name was Al Vermeil, an old guy who looked around 70, and found out he was the Strength and Conditioning Coach to the Chicago Bulls during the Michael Jordan era. He was running a speed seminar at the event and actually doing the sprinting drills!
Funny thing was we didn't talk training, we talked about one of the guys he coached, Luc Longley, who is also from Perth. Luc helped run the basketball clinics that I went to when I was 10, 11, 12 so that was cool.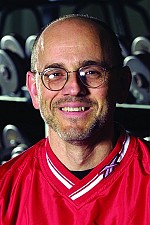 I spoke with Mike Boyle for the second time and listened to what he has to say about group training. Mike trains mostly athletes and is very much at the forefront of the training field in terms of implementing what is new and constantly changing his mind.
Coach Boyle is 51 and been in the fitness industry all his life, and he's not afraid to do things different and upset a few people along the way. I have lot of his warm up information too, as it relates to the Functional Movement Screen and injury prevention/rehabilitation.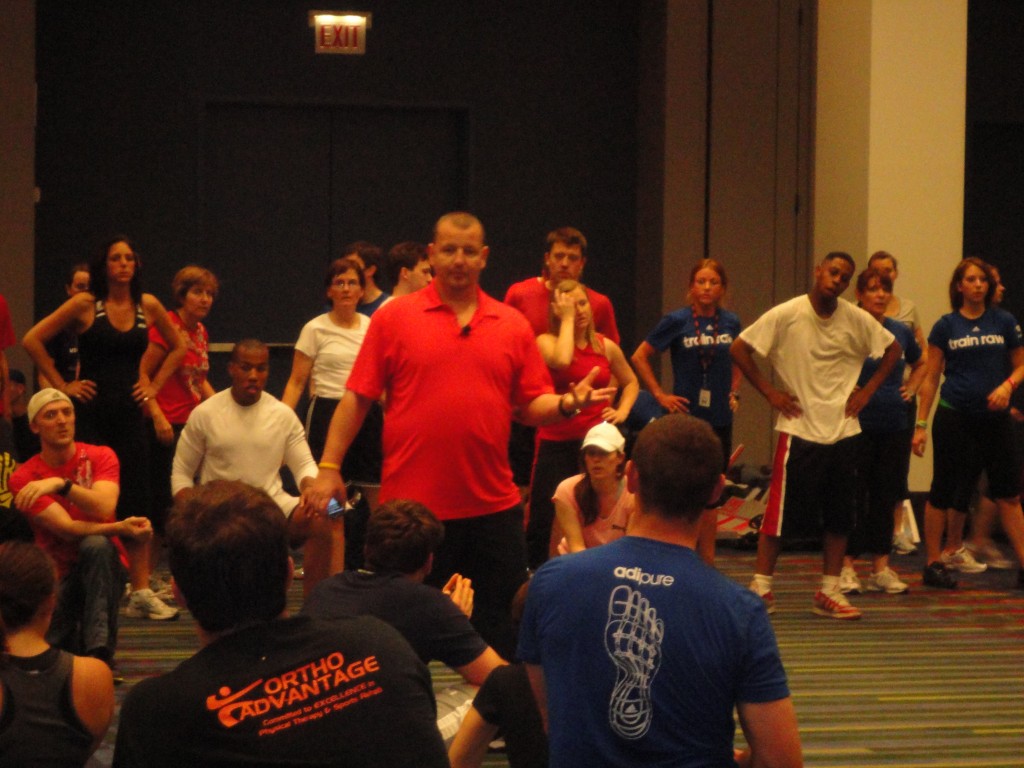 Alwyn Cosgrove (above) is arguably the top guy in fat loss in the world. His gym is run like a laboratory as he has records of every workout ever done at his gym, Results Fitness in Santa Clarita California.
He took around 350 people through a typical 'Fat Loss' workout from his gym. It looked very similar to what we are doing so I was stoked about that. I like his warm up which is similar to what I use but different, and will be implementing that when I get back for variety.
Mark Verstegen (below) runs Athletes Performance, one of the biggest athlete training facilities in the world. It is set up specifically for the athletes to train and not worry about anything else. They have chefs to provide their food, accommodation, and a world class training facility and coaches to go with it.
He talked about barefoot running vs running with shoes, what the best footwear is for different people, how to improve running technique for less injuries and increased speed and distance. I talked to him at the end as I'm very interested in the topic and he even asked me if there was anything else that he should have added to the presentation. I'll be bringing a lot of that information to you shortly.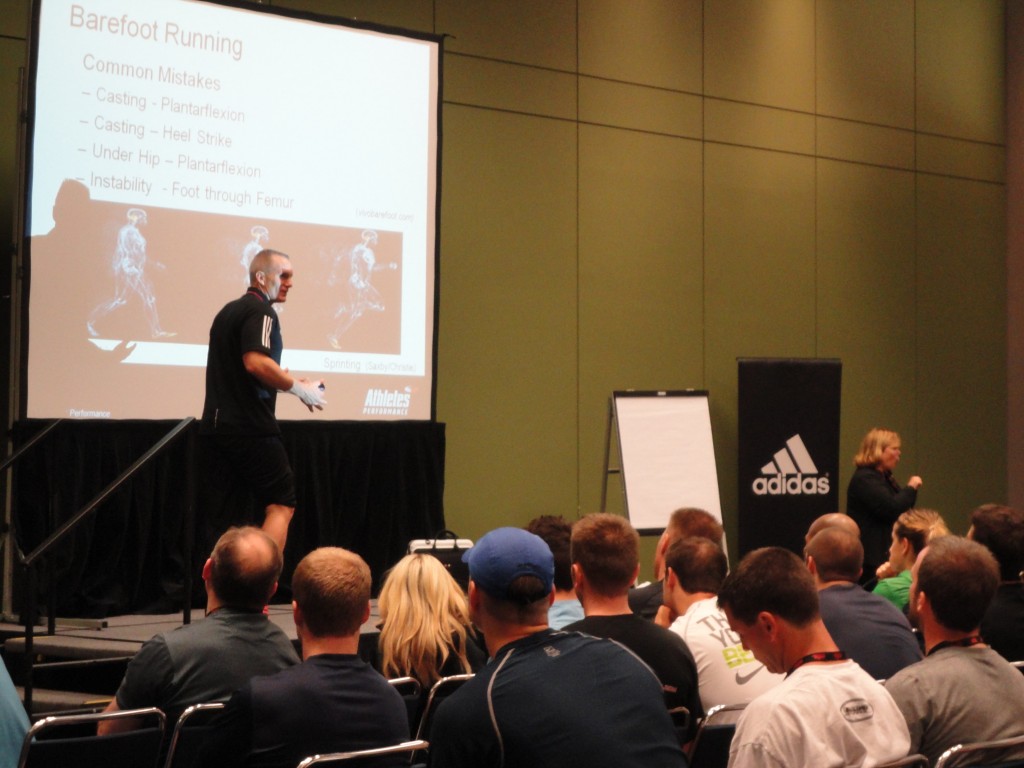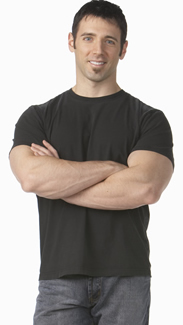 I think the most important presentation I attended over the 4 days was by John Berardi, who has a PhD in Kinesiology and runs Precision Nutrition, one of the biggest nutrition coaching companies in the world.
After being a personal trainer for years, he went back to research to get better results for his clients and after around 10 years of extra study, found he was looking at the wrong field. He then studied psychology and human behavior and now has a totally different approach to how he gets people to change their habits to improve their results.
His presentation was all about how to create new habits for best results. I had a good talk to him afterwards and will be implementing much of his technique in the future.
Once again, I'll have to consult his resources that we have at home to plan it out, but in the meantime you can check out his website at http://www.precisionnutrition.com/
Right now, I'm in Hawaii chilling out and catching up on sleep. I've been lucky enough to catch up with a friend of mine who runs Bootcamps in Honolulu and check out his training program and meet some of his clients. I'll be talking more with him over the next few weeks, but I'll let you know now that our Bootcamps are much tougher than his!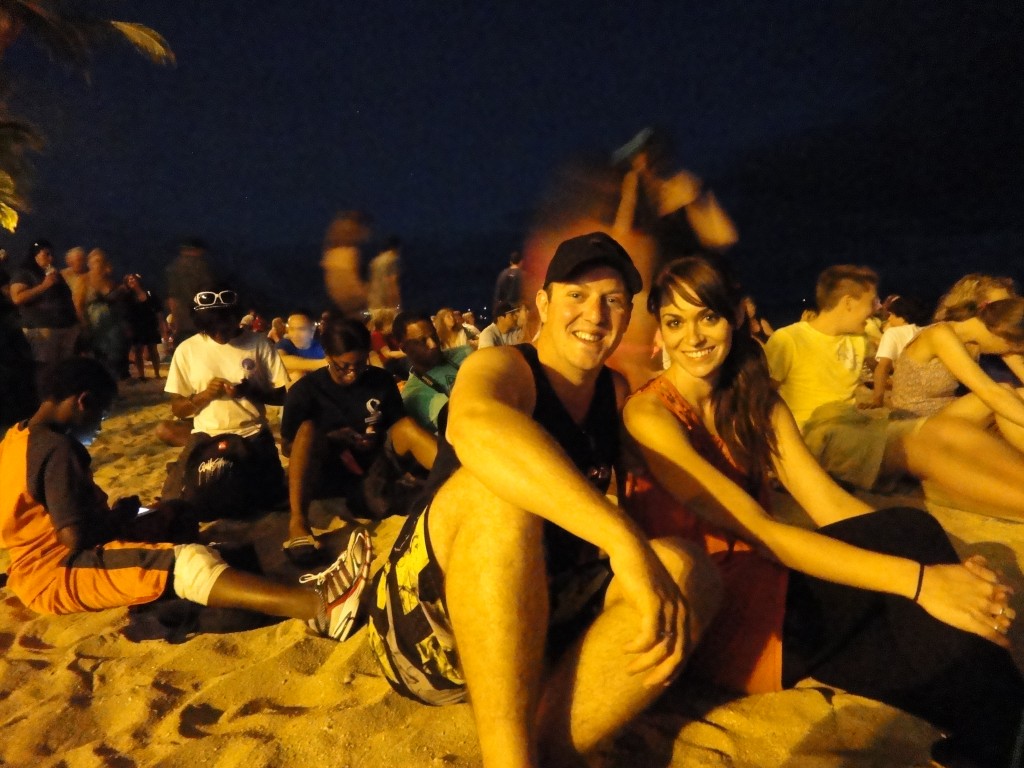 I also caught up with one of my best friends and his parents who are touring the US, and my sister and her boyfriend just got here too. Thats them above. Actually he proposed the first night they were here so that was cool too.
A few nights ago I sat on the beach and watched the movie Soul Surfer on the big screen, a story about Bethany Hamilton who lost her arm in a shark attack and came back to competitive surfing. She was in the crowd along with her family and some of the cast.
Last night I was at a Luau with 900 other people and was entertained by Polynesian dancers and fed a traditional Hawaiian feast. Good times.
I've got plenty more information to bring to you, as well as some new training toys to implement when I get back. In the meantime, keep getting a little better each day and remember it's the habits you have that determine the life you live, and the body you walk around in.