Hey guys. Hope you've all had an awesome weekend!
I made the most of the hot weather and had a morning surf on Saturday for an hour or so, then backed it up with an arvo surf for 2 hours with another 4 of the boys the same day. Sure I slept an extra 6 hours on Sunday but that's what weekends are for!
I have a bunch of mates who are all active and often find them training in my garage with or without me.  It makes it so easy to get exercise in, and keeps me pushing harder each time I train or surf. That's why I highly recommend finding training partners and love training people in groups.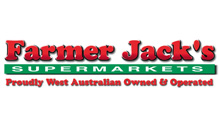 Anyway, I did my weekly food shopping at the end of last week at my favourite shop, Farmer Jacks at Woodlands. It's my favourite because they stock a ton of high quality meat and don't charge a small fortune for it. Some of the produce is over half of what most supermarkets are charging, and often the quality is higher.
So I thought I'd share my fat loss food on a budget with you. I basically stick to my metabolic typing meal plan, so my meals are generally a serve of meat (140-160g uncooked which is 45-50g protein), 1-2 cups of frozen vegetables for convenience, and if the meat is lean, a serve of fat such as 1-2 TBSP olive oil or 2 TBSP of nuts or seeds or 1 TBSP of natural peanut butter.
I've been eating no junk food for February (except Feb 1) and I already know what I am going to buy before I get to the shops. I often have a list with me and don't walk down every aisle picking up things that catch my eye.
This is what I picked up.
MEAT DEPT:
Whole economy grass fed scotch fillet. $13.99/kilo.
Turkey steaks marinated and free range. $8.99/kg
Italian beef meatballs. $9.50/kg
Fish Basa fillets 1kg. Was supposed to be $7.99/kg but I paid $4.99???
Beef Burgers 400g. $10.99/kg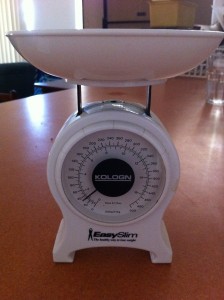 This should last me about 2-3 weeks. I occasionally weigh my cuts of meat with kitchen scales to see that I'm getting the right quantity. Or I'll just choose roughly a palm sized serve. Then I bag up my meat per meal so I just have to defrost it the night before to eat the next day.
If you have a family to feed just do the same. Or cook up the whole lot and save the leftovers for lunch or dinner the next few days. Sometimes this proves too tempting for some people and they end up eating everything, but leftovers do make life easier.
FRUIT & VEG DEPT:
Celery bunch $3.99
Carrots 1kg $1.49
Brown onions $2.99/kg
Sweet corn $0.59 each
Plums in a tray 1.3kg $2.04
Pears $2.99/kg
Pink Lady apples $2.99/kg
In addition to the above, I have a ton of frozen veg that I steam along with my meat at dinner time. I buy the cheapest frozen veg I can find as the quality never seems to vary between high and low cost. That and I eat a lot and don't need to be spending all my money on food.
Other nights I will just have meat with a decent serve of one vegetable. It keeps it simple and I'm satisfied once I'm finished eating. Some people will argue that this kind of eating is boring and it can be, but I have become a master of herbs and spices in recent years and the taste of my food has never been better!
Now you may not be near a Farmer Jacks but there are other great options for you.
You just have to spend a little more time shopping.
*Go to your local butcher, or one recommended by a friend.
*Go to your local green grocer. They often pick up their produce from local farms and can be much fresher than large supermarkets.
*Ask your friends where they get their meat and veg from and if they know of somewhere that is well priced.
*Order your shopping online. Coles do it, as do some organic produce suppliers. At least I've seen the vans around. You may pay a little more for your delivery but you can set up a weekly order to save time and you may avoid temptation by missing out on your weekly visit down the confectionary aisle.
If you have planned out your weekly food, shopping healthy and on a budget is much easier. You should also plan your weekly cheat meals too. You can cheat for 10% of your weekly meals and you will still get great results if following your meal plan. If you know exactly when you are going to cheat, you will look forward to it and be more likely to stay strict with your diet until then.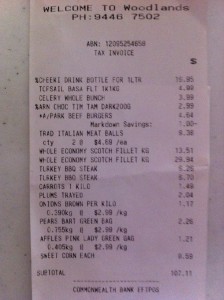 You may have noticed that there are Tim Tams on my receipt. My cheat day is today, and it's only my second one of the year so I'm allowed to enjoy them!
I've eaten junk food only 1 day this year. I don't recommend this approach unless you're very committed to your goal. I will likely limit myself to 2 cheat meals per week for the rest of the year, and suggest you do the same. However I am happy for the progress I gained from limiting junk food for 2 months and sticking to my diet. I dropped 2+% body fat and dropped from a size 32 to 30.
You can do the same, if you commit to it and want the result bad enough. If you fall off the wagon, just forget about it and make a better decision next time.
So start with your meal plan, go shopping and eat what you are supposed to and you will succeed.